Our team of specialist in different areas and top notch equipment ensure the best experience: Safe, reliable and comfortable.
smile design colombia
We offer a 20% off in smiles desings, endodontics treatment and dental implants
what are you waiting for?
Dra Maria Noriega is a certified dentist, specialized in oral rehabilitation and cosmetic dentistry.
She is recognized for her personalized attention and services to satisfy individual needs.
WITH A PERFECT AND NATURAL SMILE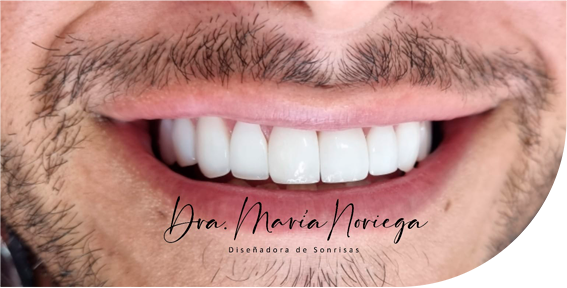 Lens
Layered porcelain
For this procedure we use a material called lithium disilicate which gives a translucent color to the edge of the teeth, which emulates natural teeth and provides a better appearance.
 
In addition, this procedure is resistant, porcelains do not fracture and do not stain. Two appointments are necessary for a successful treatment.
Venners
Porcelain
This alternative will leave the patient with an even - colored  smile.
In this treatment we use lithium disilicate as the main part of the design, guaranteeing resistance as it prevents fractures and stains. Only two appointments are necessary for a successful treatment.
Lens
Ceromer
For this smile design treatment we use a material that contains ceramic and polymer microparticles.It lasts between 3-5 years in the mouth and is more resistant than resin.
Venners
Resin
The resin design is perhaps the best known and most affordable. It is made from a material that is easy to handle.
However, its main disadvantage is that it can fracture or stain and requires maintenance every 6 months.
METAL FREE ZIRCONIA FIXED PERMANENT PROSTHESIS
METAL CERAMIC FIXED PERMANENT PROSTHESIS
METAL CERAMIC FREE ZIRCONIA CROWN
LITHIUM DISILICATO RESTORATION
METAL CERAMIC RESTORATION
We are a bilingual team and we are always willing and able to help you from the get go. From booking a hotel to local transportation (airport – hotel – clinic), we take care of all the logistics for a safe and comfortable experience.
We accept all credit cards…
Let nothing stop you from getting the smile of your dreams.
Contact us via WhatsApp for a free consultation.
Why choose our services? We are smile designers!
By choosing the team in Dra. Maria Noriega's clinic, you are choosing experience, expertise, and the best work ethic only highly qualified professionals can offer. Our treatment will result in your satisfaction, guaranteed.
Our team at Dra. Maria Noriega's clinic is bilingual and trained in customer support. We are at your service!